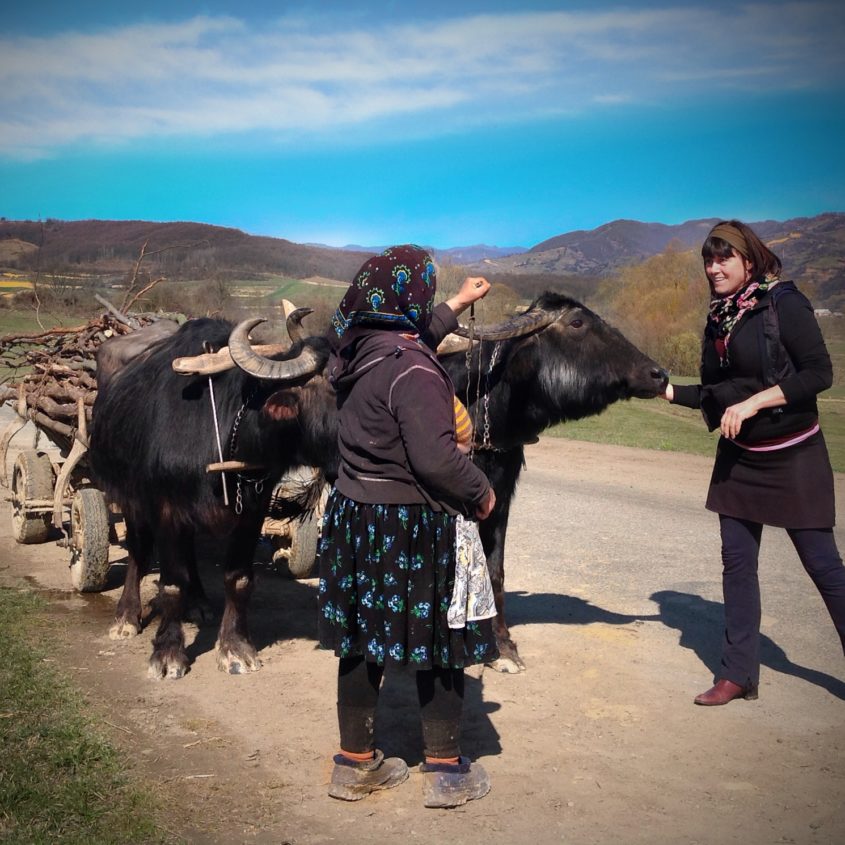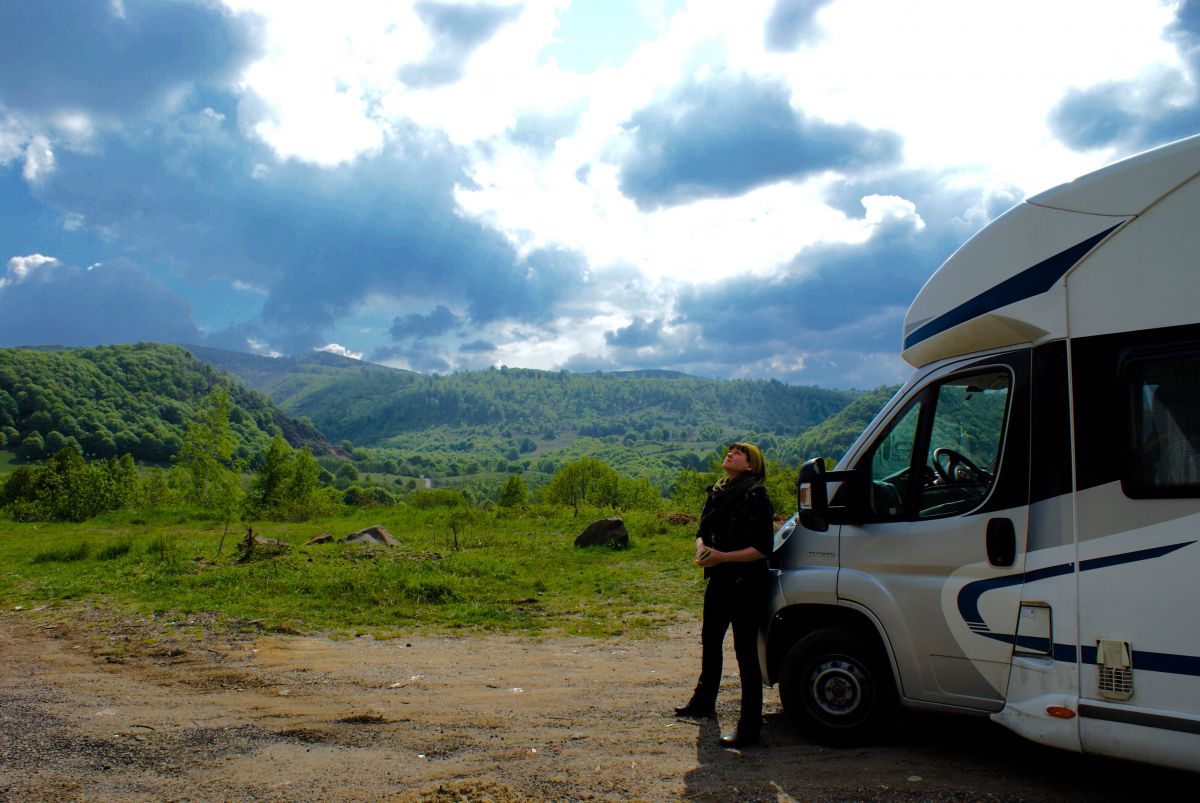 SWEDISH ARTIST MALIN SKINNAR : "AS USUAL, IN ROMANIA, MIRACULOUS THINGS HAPPEN"
– MALIN, WE ARE CURIOUS TO FIND OUT MORE ABOUT YOU. COULD YOU PLEASE TELL US WHAT BROUGHT YOU TO ROMANIA ?
– I am a digital nomad who depicts folklore through my iPhone and via YouTube. I have my studio and atelier in a camper van and I tell the stories of different countries by their folk songs.
My vision is to travel around Romania and make a book about the women's songs and about the self sustainable people. Romania has a richness when it comes to village life and traditional lifestyles still kept in use.
Those are things that I find unique for Romania and  desirable for us in Sweden. I dearly wish to depict that and tell the stories from Romania.
I always travel with the help of my friendly network on Facebook and I am always met by kind and hospitable village people. I often get the question if I am not scared to travel alone.
No, I am not.  Friendliness and hospitality are extensive all over the world and in Romania it was omnipresent.
I was embraced, guided and welcomed as if I was a niece, the child of a cousin or a dear, old friend.  Multumesc, Romania !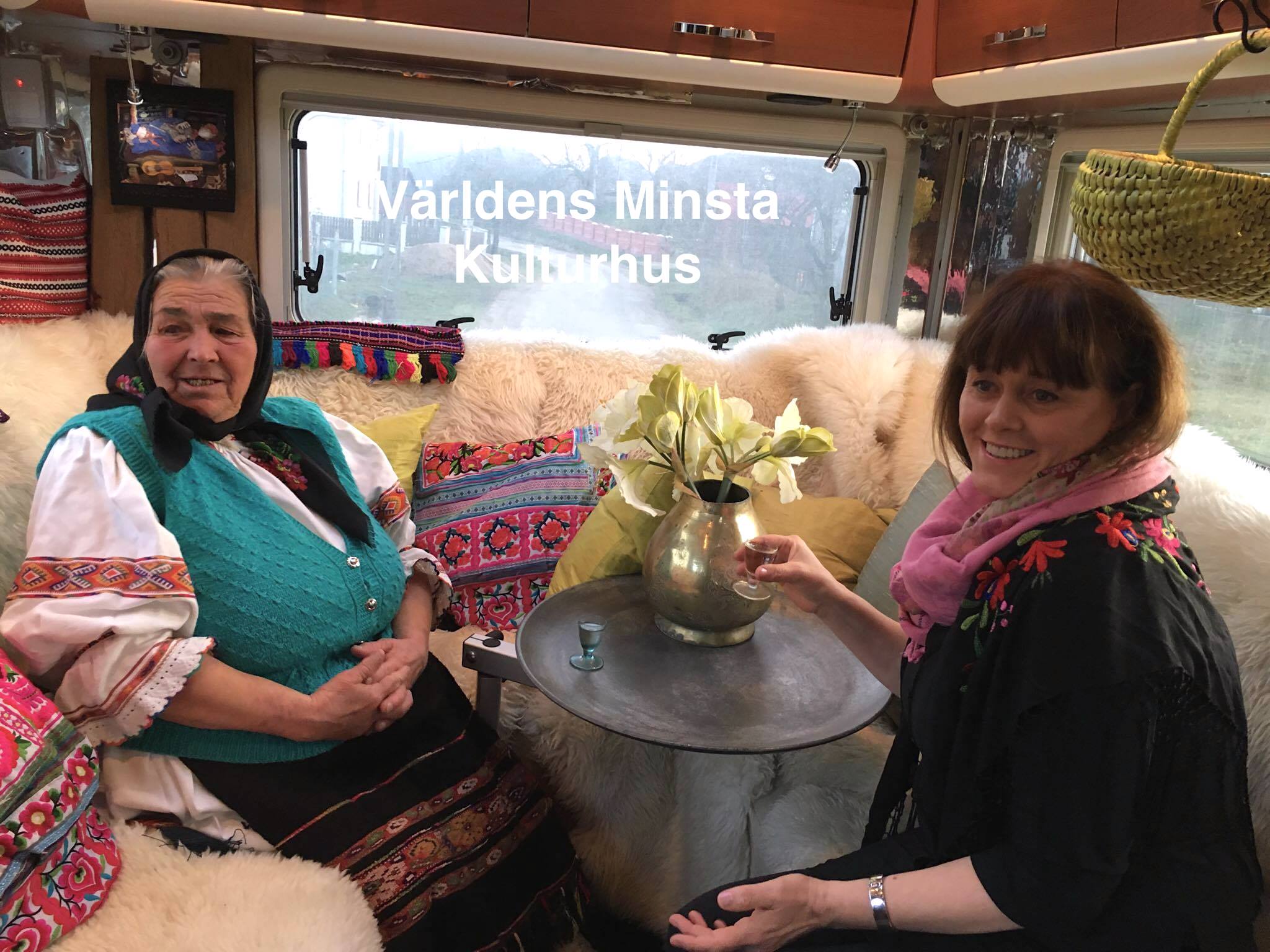 Romania always pulled me. The folklore is strong and multi-facetted there. Romania is the core of Europe and has been crossed by historical epochs, cultures, people, throughout history, but in Sweden we hardly know anything about Romania.
I had heard about special, ancient  songs from Romania as I was making a book in neighbouring Bulgaria. I did an art book about Bulgarian women's songs called : "Att klä sig i ett folks andedräkt".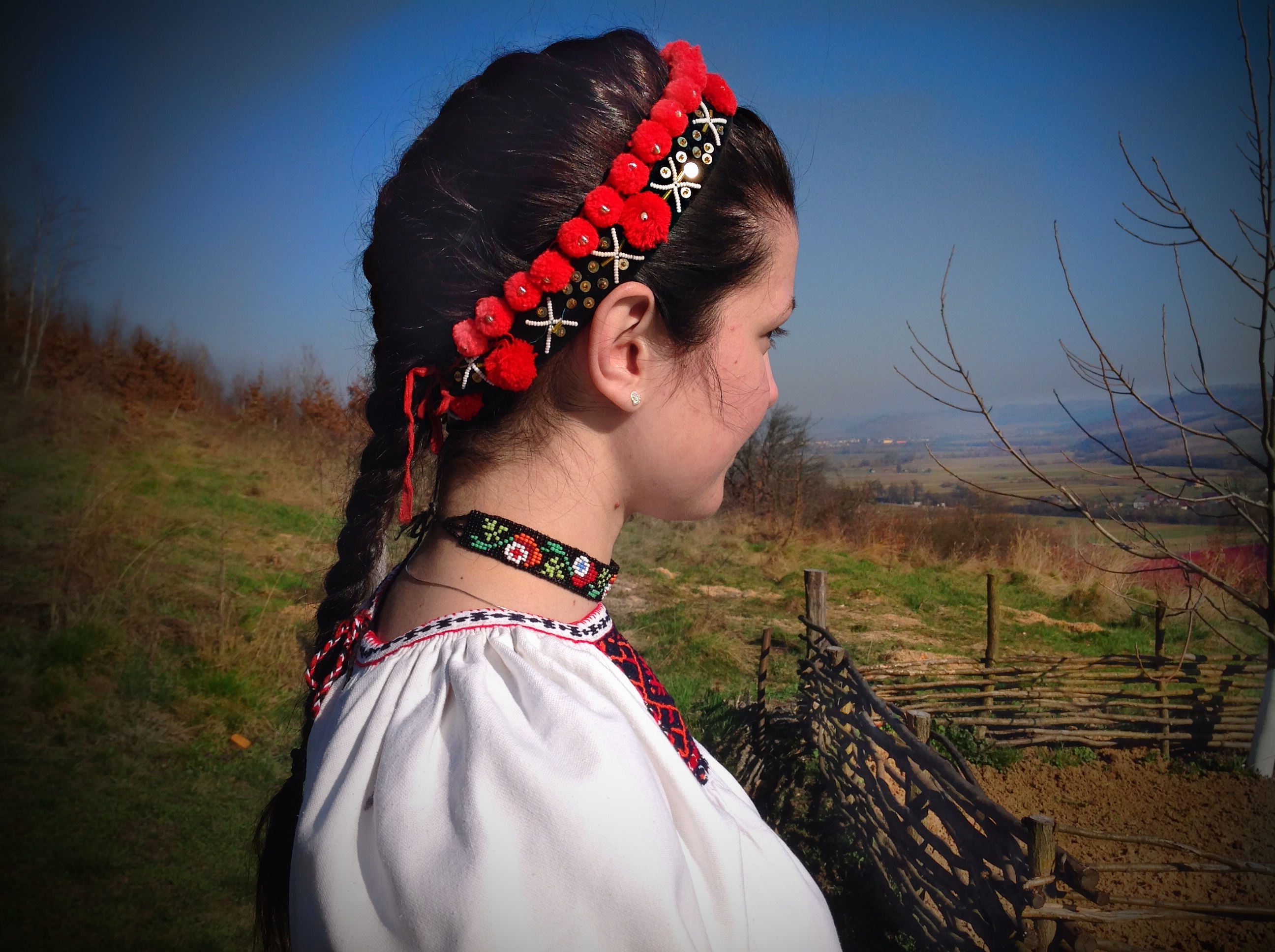 I came to Bucharest without knowing anyone, but became friends with some people through a course I assisted, called " The Liberated Voice". By accident I found a STAR-video of a young girl from Cluj singing  a folksong.
The song was magical and captivating and I took the train north and played the video to everyone I met. At the end, the tunes could be tracked to Maramures and by a miracle I found the singer, who was now an adult. She is  fantastic Livia Neag.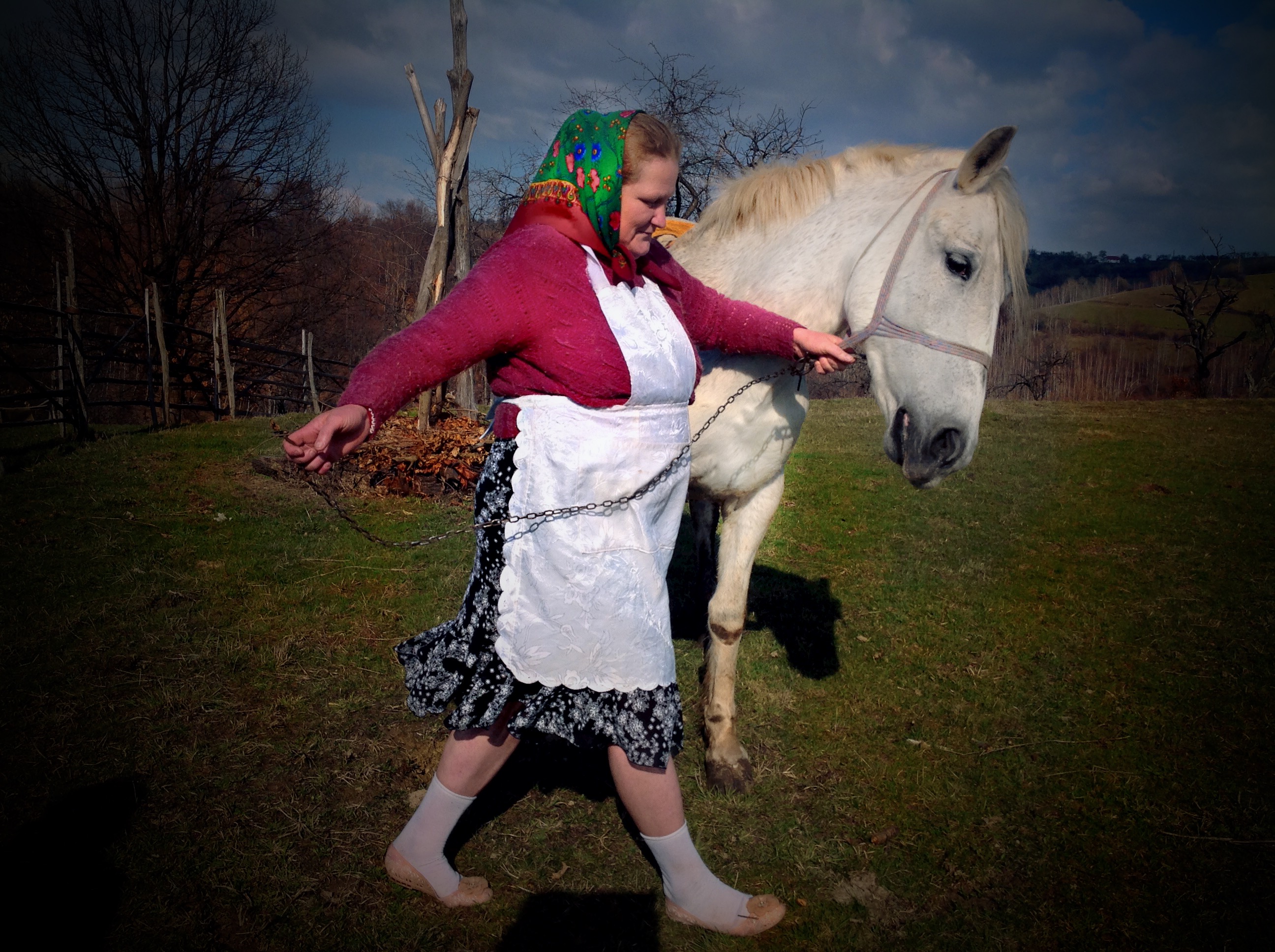 I noticed that every village in Romania had their special traits and the authentic songs  have their special place in the every day lives of the villagers.
As a folklore story-teller it is the variation of culture that makes a bridge  where there is usually national borders.
The human being and her songs, clothes, traditional costumes, language and every day life have similarities everywhere you go in the world.
All of us were born, need to survive and will one day die. In between there is joy, challenges , celebrations, hope, belief.  All our cultural expressions are like a human cape that embrace us. We carry a heritage with us, despite politics and national borders. The songs are  like an archaeological finding and consists of non tangible  values that can only be felt in our hearts.
The digital life we have today, with Facebook and YouTube ,makes the description of the lives of people pretty unique. I found a beautiful, old woman,  in Maramures and I sat down with her and we sang together.
I  shared the film on Facebook and all of a sudden  I was in contact with 15 of her grandchildren on FB, and they helped me with translations , explanations, connected  me with neighbours, other villages and sent me links with things they though I should do in the area  !
– WE WOULD LIKE TO BE INSPIRED BY YOUR OTHER ADVENTURES. WHERE DID YOU GO AND WHAT DID YOU DO ? 
I have travelled almost all my life. I am a story-teller and an artist and started early at a radio station in Sweden where music production was my field.  Through music I found throat chanting and drum dance  from the Arctic and I went to Greenland and hitch-hiked with fishermen.
I   also depicted  hip-hopers and hard rockers in the small villages, between the mountains. Then I joined their grandparents for hunting and learnt all about their old traditions.
At home, in Sweden, I started an  exhibition and  I went out on a tour with it, for 8 years. A tour with  poetry and photographs. Between the year 1992-1998   I told  43 000 children and adults  about the Arctic.  I made 11 trips to Greenland and I have paddle in between ice bergs, met polar bears and crashed into a whale !
– COULD YOU DESCRIBE A DAY OR TWO IN THE CAMPER VAN ?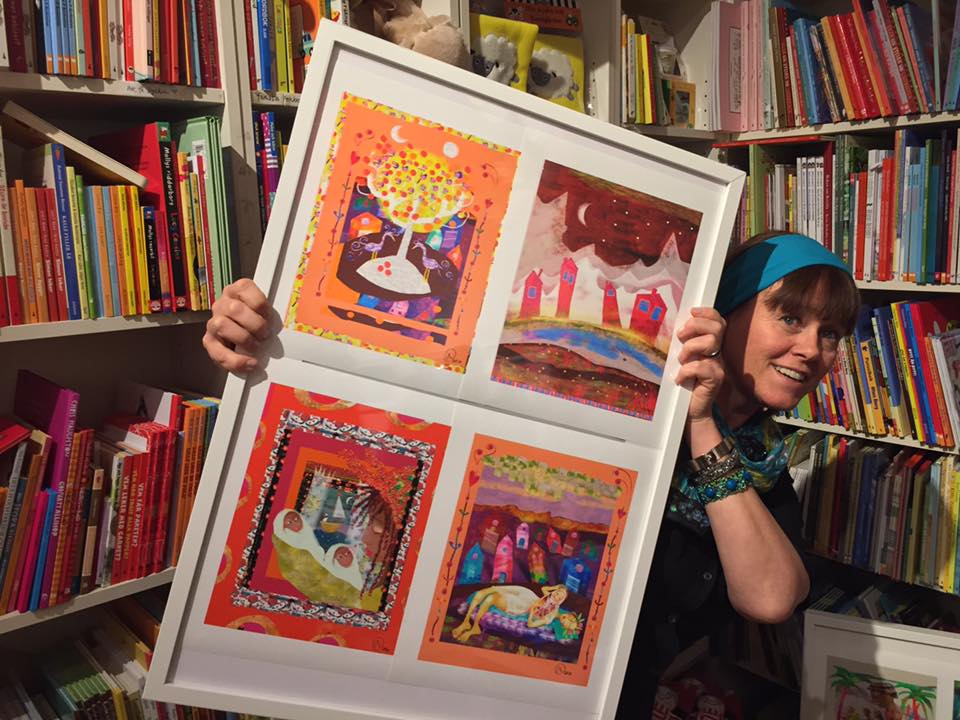 – WHAT DO YOU SAY IF I SAY PASSION ?
– WHAT DO YOU SAY IF I SAY DREAMS?
– To use my gift to connect people on earth.
–  My curiosity to tell stories and my trust to travel to places on earth I didn't even knew existed.
– To continue with story telling through songs, films, drawings, paintings and words.
– That Europe continues to open borders and collaborate.  That excluding nationalism will never gain power again because no one goes out as a winner. Only regimes. Not the individual families. People need each other. We are all of the same kind.
– WHAT DO YOU SAY IF I SAY COURAGE ?  
To trust one's intuition demands a certain degree of courage.

To be courageous doesn't mean one has no fear. It is about how we values the time together, here on earth – and how to treat one's neighbour.

I trust individuals. It doesn't mean that I am not attentive. It means that I am open and flexible towards  the situation that I am in.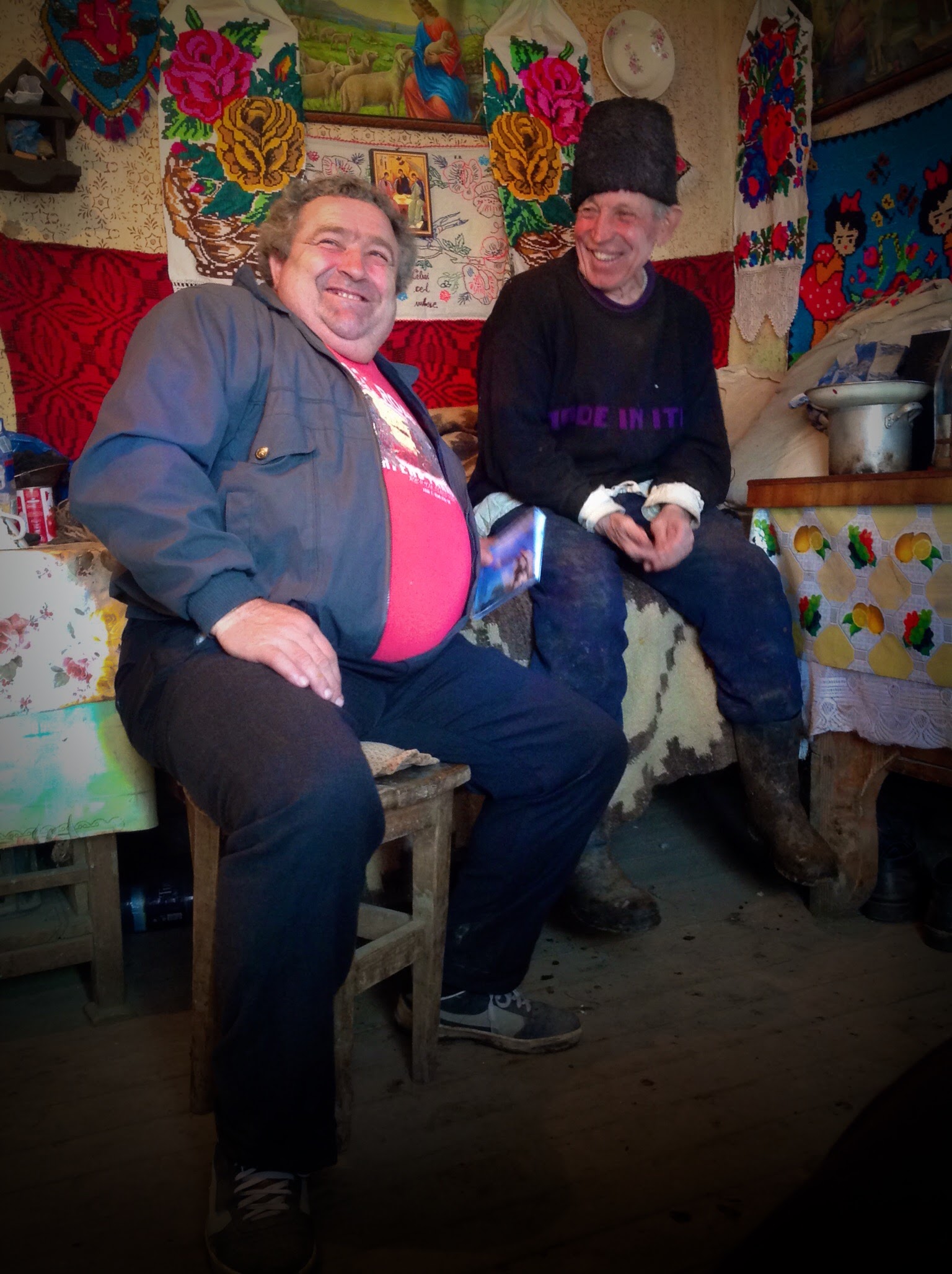 – WHICH ARE THE MEETINGS OR EVENTS THAT MADE THE BIGGEST IMPACT ON YOU WHILE TRAVELING IN ROMANIA?
Oh, all the meetings with people. There is a fundamental sense of friendliness and hospitality everywhere.
I always get surprised on how much help I get and how curious everyone is  and how much they want to show me their world !
– I AM MOVED ALMOST EVERY HOUR
One dazing day of luck and joy  was when  I sat with the women and sang in Ungureni. Their incredible traditional  clothing, their scarves, their beautiful and strong hands resting in their laps , was like  being in a fairytale.
When they sang I cried.
I had asked to hear laments , it is a tradition we forgot about in Sweden.
They sang so all of us cried. Afterwards we all ate sasuages, apples and drank horinca.  
– And we laughed.
I had been sad for a long period of time, for personal reasons, but all sadness disappeared in Ungureni. The laughter stays in my soul. Ungureni is the world's most beautiful village.
Watch : Malin in Maramures
– WHAT ARE THE THINGS THAT WE, IN WESTERN EUROPE , COULD LEARN FROM THE ROMANIANS? 
First of all the hospitality, that is pretty amazing.
Secondly, the expressions of the cultural richness that can be found in Romania, via the multi cultural tracks of people who walked the Romania plains and mountains throughout history.
The ambiance of the dances, the songs, the stories, the craftsmanship and the traditional clothing.
– WHAT DO YOU CONSIDER ARE THE UNLOCKED POTENTIALS IN ROMANIA? 
To arrive to those villages where eco-farming and selfsustainability goes hand in hand.  There, people knows all that is to know, what it means to be a human being. This is desirable and unique for everyone in Europe.
All Swedes should go to summer camps to the Romanian villages to learn how to live.
The beauty of the whole country is unique. The cities are exciting to visit, the villages wonderful. The wilderness incomparable !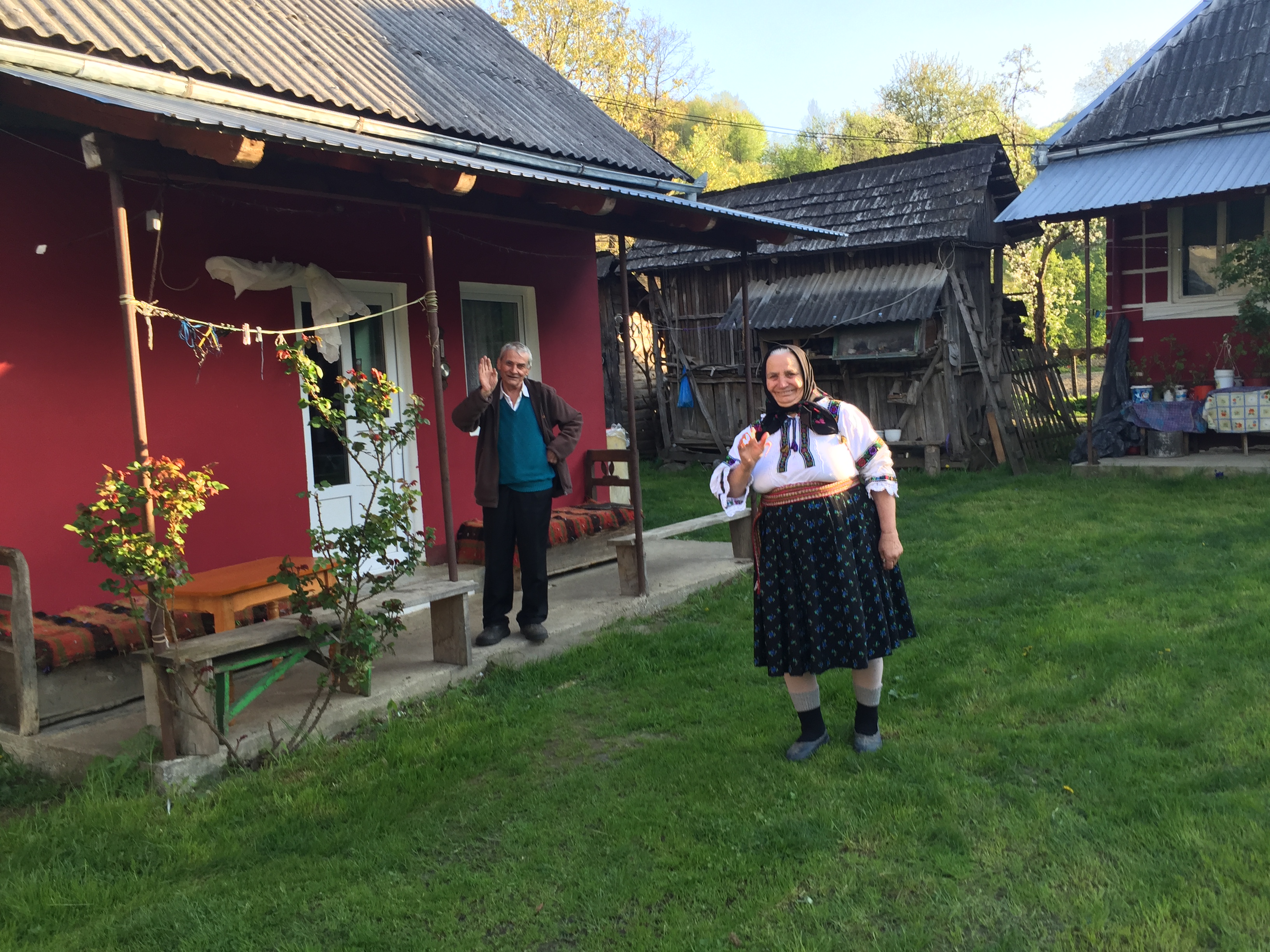 – WHAT IS YOUR IMPRESSIONS ABOUT THE CREATIVE, ARTISTIC ENVIRONMENT IN ROMANIA ? 
In Romania nobody gives up. Everyone struggles and fight.
Everyone is connected to everyone. Nobody takes anything for granted, so culture has ambassadors everywhere.
– ANYTHING ELSE YOU WISH TO ADD …?
Thank you to everyone who welcomes me in Romania. Thank you to the mountains , the rivers, the forests, the fields. Thank you  for your songs, treasures and fairytales.

https://malinstoryteller.com/wp-content/uploads/2019/12/IMG_9518-2.jpg
1490
2592
Malin Skinnar
https://malinstoryteller.com/wp-content/uploads/2019/07/malin-skinnar-visual-storyteller-artist-logo-new.png
Malin Skinnar
2019-12-08 13:02:04
2020-07-02 10:01:06
Malin - the Swedish song explorer in Romania